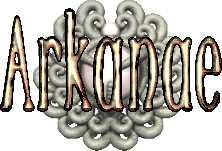 Download
IMPORTANT NOTE : if you download a new Arkanae version, you must create a new game to make the changes opered. Sorry for thoses who wanted to keep their character... :(
| | |
| --- | --- |
| | Arkanae 0.6 precompilated |

It's the precompilated demo for all of those who want to play. Now you can explore Arkanae world, fight against monsters, talk with characters and accomplish quests.

2 different installations are available :


Installation with Java Web Start : (advised under windows)
Warning : this installation doesn't work if you have installed OpenGL for Java by yourself.



Normal installation : (unadvised under windows)
1) Download and install the Java virtual machine, we advise you to download the Sun 1.3. Under windows, you should install it IN THE DEFAULT DIRECTORY (C:\jdk1.3\). Under Linux, the JDK is often included with recent distributions. The BlackDown Java virtual machine works also perfectly.
2) Download and untar Arkanae (20 MO). The same demo runs under Linux x86 and Windows.
3) Execute gl4java.install.sh (Linux) or gl4java.install.bat (Windows) to install OpenGLTM for JavaTM.
4) Execute arkanae.sh (Linux) or arkanae.bat (Windows). Play !
5) If needed, read the read-me file to know how to play.
NB : Arkanae editors work only with this version, not with the Java Web Start version.
---
| | |
| --- | --- |
| | Arkanae 0.6 source code |

For all the developers who want to see what Arkanae has in it. The package includes Arkanae and Opale.Soya (the 3D engine) source code. It doesn't include OpenGLTM for JavaTM nor data needed to play (textures, sounds, levels...) If you want to play, you must download the precompilated version of Arkanae too.
---
| | |
| --- | --- |
| | Arkanae Background screens |

There are only the background images here, in jpeg format. For those who want WindowMaker themes, there are available here : http://wm.themes.org.

Old man with old books

(Click to enlarge)
The Killer : the killer is like us, hackers, someone who stay in the shadows until he strickes ! And he strickes strongly !

(Click to enlarge)
Arkanae : a picture showing the 4 best screenshots of Arkanae. For those who really LOVE Arkanae !

(Click to enlarge)
---
If you encounter problems to install :
Check that you have a recent enought version of the Java virtual machine and of OpenGLTM for JavaTM.
Contact Jiba. Don't forget to precise your software (Linux ? Windows ?) and hardware (3D card ?) configuration.